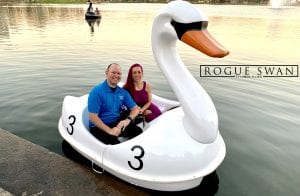 So, we were blessed to selected as one of the fundraising teams for the Lakeland Volunteers in Medicine's Lakeland Swan Derby. Our team came in second in the fundraiser, raising $5,150.00. That $5k+ allows the LViM to give over $25k+ in care to those in need. On the evening of the Swan Boat Races, our team – Rogue Swan, came in second place in the Leaders Of Polk race. While it was a bummer to not finish first, we were thankful to have been recognized and selected to help such a great cause.
What does this have to do with marketing your company? Well, technically nothing. BUT, it is a great story and amazing memory ….. and also what I used as my lead in for my Manager Moment at my BNI chapter meeting.
This is what I am talking about when I say it doesn't hurt to come in second place, in PPC.
A Few Things To Note Here:
1. The Max Cost Per Click (CPC) – Aka. The max amount we say we are willing to pay per click.
2. The cost for First Position (Top placement)
3. The avg cost for Top of Page (the 2nd & 3rd placement)
4. The avg cost to show on the 1st page (Footer of google)
The ads for our client are going to show in the exact same block of ads, at the exact same time as the company paying for the first position, but for WAY less.
Now yes, we do realize that in specific cases you absolutely may want / need to rank in that first position; depending on your ROI & if you offer an emergency service. Through our monthly consultations, we get to know what those keywords and phrases are that are worth landing in those positions and then typically build a strategy to get you there; both organically as well as strategically via paid search. 
Typically, however, our ads are going to get a higher impression share, and have a lesser CPC, because of several reasons:
Our ad copy (including ad extensions) are designed to the latest optimization standards.
We set geo targeting to assure your ads only show where you want them to.
Our ads take a customer to a relevant, dedicated, mobile optimized, website landing page that is formatted and (constantly being) fine tuned to the way Google prefers it to be.
We monitor click cost fluctuation (almost daily) to make sure we don't overbid on clicks.
We continually work to improve our quality scores for even lower bid costs.
& Much More.
SO….hypothetically setting a $100 per day budget for just one day…. which company do you believe is spending wisely?  I'll go with the one getting the 3-5 to 1 click ratio.
If you have questions about Google / Bing Paid Search for your business, please do not hesitate to submit a contact inquiry. TBA Marketing offers PPC Consulting, Classes & Coaching, & of course Management.