Blogging 101
You've decided it's time to start blogging! Whether you're new to it or just know you need to get started, we're here to help. Of course there are lots of great reasons to blog, but we know it's scary writing those first few posts. That's why we've put together a checklist / worksheet for all the new bloggers out there. Get ready to make a great first impression on your readers!

Blog Foundation
Who is reading your blog?
If you know who is reading your posts it will help you decide on great topics. It's a good idea to create buyer personas before you start blogging.
Choose a tone for your blog
.
You need to decide if your blog will be casual or professional, or something in between. Will you be talking to stay-at-home moms, office professionals, tech gurus, or maybe musicians? Think of how you interact with your clients now and that should help you determine your blog's tone. Your in-person demeanor should flow into your writing.
Writing The Content
How can your blog help your readers?
Before you start blogging, make sure your selected topic will help your readers (potential or current clients) solve a problem. Example: If you are a pest control company, like our friends at Superior Spray, you could write a blog about mosquitoes and how to better maintain your landscaping to keep them away. If you are a restaurant that is open for lunch, you could write a blog on the benefits of taking an out-of-office lunch.
Add Links to Your Blog Posts.
Adding links can reduce your bounce rate. Even the best blog topic and perfectly written content can cause unnecessary bounces.  If your readers don't know what to do next, then they will most likely click on that "X" in the upper corner. However, if you have a few well placed links inside your blog you can encourage higher click-through-rates.
Pro tip: Linking away from your blog can increase the value of your own content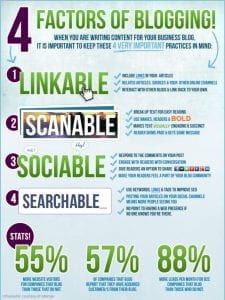 Make Your Blog Stand Out
Use Photos & Video
Humans are visual creatures. Seeing a topic brought to life with pictures, videos, or infographics can give your blog the extra punch it needs to stand out from the crowd.
Post to Popular Sites and Social Media

Use Facebook, Twitter, Google+ and anywhere that will let you to post / link to your blog for more traffic. What good is a blog if no-one knows about it? If you have written it well, your blog will be doing your readers a great service. Don't be shy about posting it on other websites. You can even offer to do blog link-swapping with a complimentary business. Example: A painter and a pressure washer could post each other's blogs on their websites to drive more traffic and potential customers to each business.

DON'T MAKE THESE BLOG WRITING MISTAKES

Set Impractical Goals
.
You know what it takes to run your company. Don't burden yourself or employees with an excessive blogging schedule. Start blogging once or twice month and increase your frequency as you become more comfortable. Or, if it is within your budget, you can hire a professional to help you write.
Limit your word count.
Blogs should be a minimum of 300 words but feel free to write more! If you are passionate about a topic, share it! Your heart will be felt through the words. On the other hand, stop yourself from senseless rambling just to lengthen your articles.
Use Bad Grammar
It should go without saying, but please proof-read your blog posts before publishing. A blog is a place to share your industry knowledge. Readers will take you, and your blog more genuinely if they can bank on quality written content.
Be negative.
You will make more friends and long term readers with positive and and informative blogs. Keep whining and complaining away from your business's blog page. The only time you should take a negative angle is when you have a direct solution to your reader's problem.
Be Long Winded
Normally the first thing readers will do is scan your article. If it looks like lots of long paragraphs with no heading or subheadings, they will likely skip over it.
Play It Safe
Take some risks! Change up your blog game with guest writers. Try choosing a topic from breaking news headlines, or perhaps do a video blog (vlog). Testing out new ideas can make your set your blog apart!
Be Scared To Ask For Readers
Friends and family are a great place to start when you need readers for your blog or comments on social media. Don't be shy to ask them to read and comment.  
Well there you have it, everything you need to start blogging! We hope you enjoyed our blog and learned something new. Feel free to share it if you know someone else who could use this information to help grow their business.