When you tell someone about your business normally one of the first questions they ask is: What is your Facebook page?"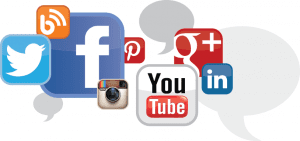 It used to be, having a Yellow Pages ad was the most important advertising real estate you could have next to your dot com; now it's Facebook and other social media sites. Love it or hate it, we live in a social media culture. Not having a Facebook page is almost as taboo as forgoing a dot com address. Even printed ads often feature a "Like us on Facebook or Follow us on Twitter" tag. With so much focus and money $pent on leveraging social channels and company websites, why not make sure the two are seamlessly integrated?
Why Should Your Website Be Social?
Return Visits
Your advertising and SEO brings users to your site but if they don't make a purchase or schedule an appointment on their first visit, how do you know if they'll come back again? However, if your social links are integrated into your website you could gain them as fans on social media. Meaning you can engage them with new content and offers and when the time is right, they can revisit your site.
 Encourages Word Of Mouth Advertising
Score! You got an ideal customer to your site and they fall in love with your brand. Now they want to share the love with their friends, make it easy for them and enable social sharing icons on your products, pages and blog articles throughout your website. It's a great way to squeeze all you can out of your willing brand advocates and attract new customers.
 Ready? Here's How You Can Integrate Your Social Media:
1. Add social media buttons to the top of your website and on your contact page.
You probably currently list your address, phone number and email address, but don't forget to add your social media links such as Facebook, Twitter, Instagram, LinkedIn or Pinterest. When clicking these buttons, users are then directed to your Facebook page or Twitter feed, where they have an option to Like or Follow.
Taco Bell features social buttons on the bottom their contact page – and every product and landing page throughout their site.
2. Showcase Like Boxes
When your friends already like a page on Facebook it builds instant trust and therefore you are more likely to click the '
like' button yourself. Adding the ability to click the 'Like' button
on your website, means users don't need to leave your site in order to like your social pages.
3. Feature social streams
Why keep your social fans separate from your website visitors? You most likely list your website on all your social media platforms, return the favor to yourself and feature your social streams on your website. Website visitors can then see what you're up to on social media. Even for a simple site, social streams can be easily integrated and show instant value in following your company on certain networks.
4. Add Like, Share, Tweet and Pin buttons to your pages
Adding a "Like" or "Share" button will necessarily grow your fan base, but it will bring more visibility to your website's pages. After clicking on your buttons, users can share a link to your product, service or article with their friends on social media by posting it on their timeline, on a friend's timeline or "sending" it a private message. There are numerous customizable plugin toolbars that are available to help you enable sharing on your pages.
Pro Tip: Offer Bonuses : The next step in encouraging your website visitors to share your product with their friends is to offer incentives for sharing! Give coupons, rewards points or even a free products.
5. Create A Landing Page or Social Hub
This is a special page on your website that is dedicated to your social media accounts. Add your social streams from all of your accounts to encourage users to follow immediately, jump in on the conversation, and share or retweet without having to leave your website.
For example the Lacoste homepage features a social alligator – their logo covered in social network logos. When visitors click on the "Social Alligator" they are taken to a Social Media Center, with previews of posts.
Now that we've showed you a variety of ways to integrate your social media into your website it's important to remember to maintain a balance between encouraging users to share their activity, and asking them to Like, or Follow your pages. Once they like your social pages, make sure you keep them updated with fresh content. You can have 100's of Twitter followers and a 1000's of Facebook fans, but engaging them is what matters. Keep things exciting, and it will keep bringing visitors back to your site, along with their friends, for a continued relationship and rewarding user experience.